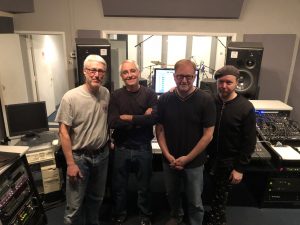 Isobar is a progressive rock band based in San Jose, California. Their music is all-instrumental, intricately-crafted songs, covering a wide range of musical territory.
Isobar is:
Jim Anderson, bass
Malcolm Smith, guitars
Marc Spooner, keyboards
Anderson, Smith, and Spooner were members of Bay Area prog rock band Metaphor, which released four critically-acclaimed albums.  Smith and Spoonerhave also released solo material while Anderson played on the recent release by Mind Furniture.
Also appearing on Isobar's debut release are:
– Mattias Olsson – drums (Änglagård, White Willow, Molesome, and many more)
– Evan Weiss – trumpet; Ben Bohorquez – saxophone (The Funky Knuckles)
– Lonnie Cory – trumpet; Tony Abena – saxophone (The Hitmen)
Isobar was recorded at Dolores Gulch Studios, and mixed by Robert Berry at Soundtek Studios.  
Albums
Rewards
<iframe style="border: 0; width: 350px; height: 786px;" src="https://bandcamp.com/EmbeddedPlayer/album=2952498018/size=large/bgcol=ffffff/linkcol=0687f5/transparent=true/" seamless><a href="https://isobarprog.bandcamp.com/album/isobar">Isobar by Isobar</a></iframe>
Isobar
tempore
accusamus